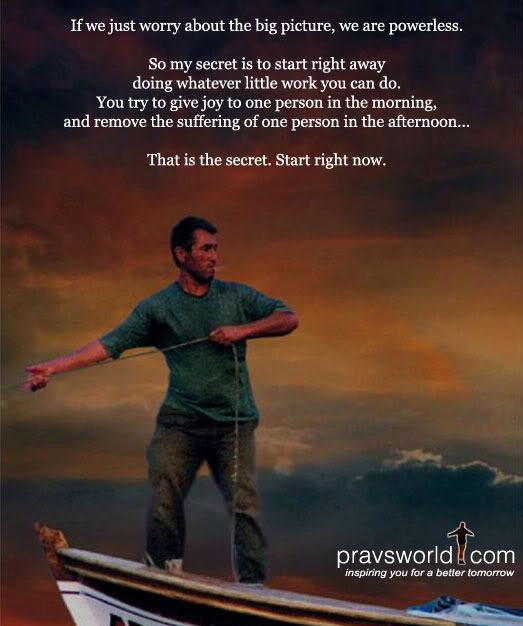 I usually check out
Pravsworld
for some inspirational stuffs.... I have included the link.
Yup all it takes is the first small step ..... I cant run .... but I can eventually ....if I start by walking now and build it up to a run ..... when I was a baby .... I started by crawling .... then walking with support and the countless times I had fallen on our bottoms ... but I kept picking myself up .... not knowing the full pictures ... I guess it would have been overwhelming for me to ponder when I was a baby .... but the fact was eventhough I kept falling ... I did not stop getting up and I took small steps until I can walk ... I kept on walking and walking and eventually I could run.
Now I am in my late 30s...... I still keep falling but sometimes it takes awhile for me to pick myself up. Today I am at home ... on leave ... trying to study ..... thinking about the exams overwhelms me .... and when I worry about the overall picture .... about the amount of materials I have to store into my brain .... makes me feel so powerless and sometimes I wonder where to start. But today I will start right now ... not worrying about the big picture .... breaking it down into smaller pieces so that eventually I can reach my goal. So today even when I fall again and again I will pick myself up again and again ......
Isaiah 40:31 (Amplified Bible)
Amplified Bible (AMP)
31 But those who wait for the Lord [who expect, look for, and hope in Him] shall change and renew their strength and power; they shall lift their wings and mount up [close to God] as eagles [mount up to the sun]; they shall run and not be weary, they shall walk and not faint or become tired.
Thank You Jesus .... that You are the reason that I live for..... You alone are my source of strength ..... and I am not alone ..... Amen